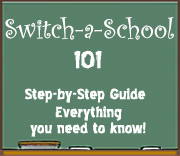 What's New
VOLUNTEER INCENTIVES
Work an 8-hour shift and shop first!
Donate ALL unsold items and shop before all other Consignors!!!



BOOKS & DVDs
All Books and DVDs will be donated at the end of the sale. If you would like to get your books back, you may come and search for them on Saturday at 2:00pm - Be sure to see Robin.

CHILDREN'S WAGONS
No children's wagons will be allowed at the
Volunteer Pre-sale.
Only adult collapsible wagons will be permitted.

NEW VOICE ENTRY TAGGING SYSTEM
Tagging has never been easier!!! Switch-A-Roos now has a VOICE ENTRY Tagging System that you can use with your phone or computer! Start entering your items today and you will LOVE it!! So EASY and FAST!
Watch the VOICE ENTRY TUTORIAL VIDEO below for the simple instructions!!

Socks, Belts, Hats, Onesies and Bows
will not be sorted. These items will be available during pickup. Please consider donating these items while entering.
Please read Consignor Agreement Changes Carefully!
We encourage you to mark your items for half-price on Saturday. This is a great way to increase your sales on Saturday. This is a busy day and our shoppers are looking for 1/2 price bargains!


BREAST PUMPS - We will be NOT be accepted.


All clothes 3T and bigger MUST be on an adult size hanger. This is to ensure that your items stay on the rack during the sale. Wire coated hangers work best. They are available at Walmart or online.


****Please bring your Inventory Sheet to drop-off.


We have called out the STAIN BUSTERS!! All items will go through a quality inspection. The items that do not meet Switch-A-Roos Standards will be noted and returned to you in an enclosed bag. We know that our consignors are busy people, so we will make the check-in process as smooth and efficient as possible.

Switch-A-SPORTS!!

Be sure to bring ALL of your Sporting Equipment!!
This includes
Men
,
Woman
and
Children's
Sporting Equipment
for ALL sports!!
*Balls *Bats *Cleats *Helmets *Bags *Pads Etc. for every sport -- If you use it to play a sport then you can Consign it and make some$$$$$$$$$$$$$$$$$!!!
*Baseball *Golf
*Exercise Equipment
*tennis *softball *basketball
*Football *Field Hockey
*Archery *Bowling
*Cheerleading Uniforms/Pom Poms
*Cycling *Dancing *Disc Golf
*Equestrian *Fishing *Gymnastics
*Hiking *Camping *Hockey
*LaCrosse *Martial Arts *Paint Ball
*Ice Skating * Roller Skating *Skateboarding *Soccer *Swimming
*Water Skiing *Snow Skiing
*Volleyball *Weight Lifting *Yoga
(We have always consigned sporting items, but this season we will have a Special designated area for all sporting equipment - to make it easier to find!)

Other News
We will be accepting CAR SEATS!! See below!

We will not accept any adult clothes or shoes, except special brands (Vineyard Vines, Ralph Lauren, Lululemon, Southern Tide, Patagonia, LiliPulitzer).

We will only accept Cribs manufactured after 2011. NO DROPSIDE CRIBS will be accepted.
NO CHILDREN WILL BE ALLOWED AT PRE-SALES. ONLY BABIES UNDER 9 MONTHS IN A CARRY WRAP. THIS IS FOR THE SAFETY OF THE CHILDREN.

Helpful Sorting Tips
If you would like to make your items "stand out" from other consignors, we suggest you put a special touch to your tag or hangers.
Examples:
-put a colored sticker in the corner of your tag.
-highlight a part of your card (price, consignor number, description, etc).
-put a colored sticker around the neck of the hanger.
-be creative :)

10-Point Inspection
To provide the best quality clothes for you and our shoppers, we will be doing a 10 point inspection during check in. Please make sure that you inspect each piece of clothing BEFORE consigning. Thank you for understanding when we can not accept items. We will have a donation area during drop off -  if you would like to donate any unaccepted items.
1. Overall condition: no fading, pilling
2. Clean, free of stains
3. Hem
4. Pockets
5. Buttons
6. Zippers
7. Lining
8. Smell, animal hair, smoke
9. Seams
10. Barcode is clear and in correct location
Car Seats
We will be accepting carseats this sale. In order to sell a carseat you must read, complete and
sign a waiver. You can review the waiver on our website. All carseat must be manufactured
within the last five (5) years from the date of the sale and meet all government standards.

TOYS
Please make certain that all pieces of a toy item are securely fastened together and that your toy is complete. Use packaging tape, Ziploc bags, clear plastic containers, zip-ties, etc. ~ but please make sure that all the items are secure. We try to ask parents to not allow children to play with toys, but we cannot control that completely and inevitably children take things apart and scatter pieces. PLEASE make sure that your tag is securely taped to your item.

Busy Bee Service
Have no time to consign?? Have TONS of clothes, toys, baby equipment to sell and NO TIME to get everything ready? We get it….you are BUSY! Boy do we have a surprise for you! Switch-A-Roos is now offering a service for busy moms who would like to make some extra money from their gently used items. Click here to see how it works.