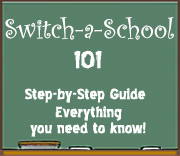 Sponsors/Vendor Information
A GREAT way to promote your business. Switch-A-Roos sponsor opportunities are designed to provide sponsors with an excellent way to promote their mom and child-related services and/or products. Several levels of sponsorships are available to meet the needs of your business. Switch-A-Roos advertising campaign includes corporate partnerships, radio advertising, billboards, flyer distribution to schools, daycares, and child related businesses.

LEVEL ONE: SWEET SACS- $100
Switch-A-Roos provides "SWEET SACS" (goodie bags) to 500 customers throughout the sale. You will provide 500 coupons or promotional items that will be included in this easy and direct marketing tool. Promotional materials are to be delivered to Switch-A-Roos to the location and deadline provided by the Vendor Coordinator. Materials must be approved prior to the sale.

LEVEL TWO: BANNER PARTNER - $100
Let's hang out!! Bring your banner to Switch-A-Roos to the location and deadline provided by the vendor coordinator and we will hang it near the entrance/exit for maximum customer exposure. Perfect advertising opportunity! You must pick up banner at the end of the sale.

LEVEL THREE: WEB PARTNERS- $150.00
Let Switch-A-Roos connect your business to our thousands of contacts through our website and our social media accounts. Your logo will appear on the Switch-A-Roos website with a hyper-link to your business website. Additionally, we will spotlight your business twice on our facebook page and our instagram account with links to your business sites! Company logo must be emailed to the vendor coordinator.

LEVEL FOUR: PLAY HOUSE SPONSOR- $200.00
This level of sponsorship combines your choice of two from the Sweet Sac, Banner or Web Partner options! Additionally, you get two (2) presale passes to the volunteer presale.

LEVEL FIVE: CLUB HOUSE SPONSOR- $400.00 (6 mth) or
$600.00 (12 mth)
Club House sponsors can pick from two (2) options. The $400.00 option gives six (6) months worth of partnership and the $600.00 gives a full year of partnership. The Club House sponsorship includes the following:
Sweet Sacs, Banner and Web Partners
Vendor Booth participation for all days of the sale
Business Logo printed on most advertising materials
Business Logo on front page of Switch-A-Roos website
Six (6) presale guest passes (six-month partners) or 10 presale guest passes (12 month partners)

VENDOR BOOTH- $250.00
Vendor Booth participants have the option of setting up in an assigned 8x10 spot during the consignment sale to promote kid/family friendly businesses. Vendors may sell products and will keep 100% of their sales. The $250 fee allows set up for the entire sale. However, we do offer individual days for $75 per day (there is a two (2) day minimum)

* Additional special add-on offers for vendors - SWEET SACS for $50 and WEB PARTNERS for $75. Two (2) guest passes to presale.