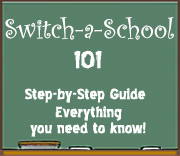 Switch-A-ROOMS!!

Home Furnishings & Home Decor
Kitchen ~ Table and Chairs
Dining Room ~ Tables, chairs, China Cabinets, Side Boards
Living Room/Den Furniture ~ Couches, End Tables, Coffee Tables, Sofa Tables Stands, TV Cabinets/Stands (No Adult Mattresses)
Desks, Bookcases, Shelves, Foyer Tables, Benches
Outdoor Patio/PorchFurniture
Lamps
Up-To-Date Decorative Accessories
Electronics ~ TVs,DVD Players, Printers, etc -- All must be in working order - Attach instruction book if available
Kitchen Items ~ Group or bundle together if possible.
All Ceramic, Dishes, Glassware, Breakable Items,etc. ~ Needs to be grouped tougher and BOXED in a set!
Seasonal Decorations
Switch-A-Roos is not responsible for items that get broken, lost or damaged!
Please make sure all items are clean and in great condition!