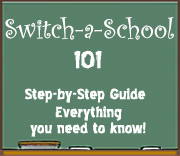 Tagging/Consignor Instructions
Log in or Register as a new consignor.
Get Card Stock.
Gather and organize! Make sure that everything is FREE of stain and in working condition.
Enter your items online.
When you have finished entering your items, print barcode on card stock paper.
Drop off your items.
Shop!
Pick up your unsold items and CHECK!
Click on "Switch-A-School 101" for a detailed consigning manual. This manual will teach you everything you need to know including the tagging and barcode instructions!
Tagging deadline: Check your location calendar for
Charleston!!!
Our barcode tagging system is simple, quick, and easy!
Our online tagging system will save you 50% or more time when preparing your items.
Insure checkout accuracy and human keystroke errors.
Speed up checkout time.
Track your sales during the sale!
Inventory sold will be tracked per day and sales are uploaded every evening after closing.
DIRECTIONS FOR ENTERING YOUR ITEMS
Register as a Consignor for Charleston.
Log into your Consignor account.
Once you log in you will see your Consignor Home Page. Scroll down and register for our upcoming sale, Un-register for our upcoming sale, Schedule your drop off appointment, Sign Up to volunteer, and sign the consignor agreement and worker agreement.
To enter items, click on "Activities Menu" that is located at the top. A drop-down menu will appear.
Click on "Work with my consigned items"
This will put you into the inventory portal, where you add the items you would like to consign.
The printing tag utility is available on the "Work with your consignor inventory" link. Please be sure to disable pop up blockers when you are printing because your tags pop up in a new window for printing.
*Please Note: Once you have printed your tags out – YOU CANNOT EDIT THE PRICE OF YOUR ITEM!  The price is encoded on the barcode and prices must match in the system. If you edit the price, you must print out a new tag.
BARCODE PRINTING TIPS
To ensure we are able to sell as many of your items as we can during peak times without making any errors or missing any items, it is very important that your tags are scannable. Great features of our sale like nightly sales updates and quick check delivery are dependent on scannable barcodes.
The printed quality of your barcode is very important! Please print a page of 3 or 4 test tags to see how they look. Use a critical eye when checking the quality of the barcodes.
If your barcodes look like this, you are good to go.

If it looks like one of the barcodes below, realign your print cartridge and try again. Print tags using the NORMAL or DRAFT setting, not high quality – ink will be too dark! 


If it looks like this, replace your ink cartridge and align the new one. 

OTHER OPTIONS FOR PRINTING TAGS:
If you do not have access to a printer, please go to our contact page and e-mail us for other options.
TAGGING TIPS
Use white or pastel card stock for printing.
Do not use plain paper. If you use plain paper for your tags, you will be asked to redo them at drop off.
Use black ink on the normal or draft print setting. Best quality is too dark and the barcode may bleed.
When printing your tags, please print in Internet Explorer. (Sometimes when printing using Mozilla Firefox, the description looks like jibberish.)
THE IMPORTANCE OF GOOD ITEM DESCRIPTIONS
Please enter GOOD item descriptions!
If a card is lost from an item, the only way we can match it to the correct item is with the description you enter! For example, if your description is DRESS, this does not help us locate the correct dress. We could have 4 dresses with a lost tag.
Please include brand, color, and 2-piece, if applicable.
"New" and "Only Worn Once" on descriptions can make your item more appealing to a buyer!
TAG EXAMPLE
You will be able to print 6 tags per page. You must use card stock weight paper! It can be purchased at any office supply store, Walmart or Target. White is preferred!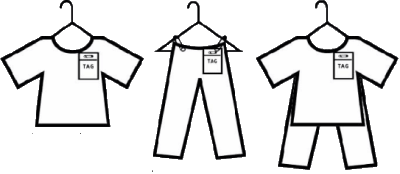 If you are using a tagging gun, PLEASE attach your tag to the inside label tag or place in a seam of the garment. DO NOT make a hole in the garment.
Please note hanger direction and tag placement. This is how your items should look prior to bringing to drop off.
On clothing garments, attach the tags like the picture above.
All clothing items should be hung with the hanger hook facing in the left direction, like a ? mark.
Please use safety pins when hanging pants and skirts at the TOP of the hanger.Do not fold them over the hanger as customers can not see them well.** Note – Please do not combine outfits with different sizes.
For directions to properly hang and tag clothes, please click here to watch the Consignor 101 Videos.