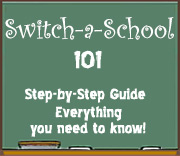 Switch-A-Roo's Busy Bee Service
Busy Bee Service costs:
You receive 35% of your sales. We also pick up items for you at an additional cost.
Have no time to consign?? Have TONS of clothes, toys, baby equipment to sell and NO TIME to get everything ready? We get it….you are BUSY! Boy do we have a surprise for you! Switch-A-Roos is now offering a service for busy moms who would like to make some extra money from their gently used items. Here's how it works:
Minimum 30 items and Maximum 100 items (unless cleared with Lisa before dropping off to her.)


Hang clothing securely on hangers and in the correct manner. (When looking at the front of the garment, the hanger should be in the position of a correct looking question mark…see the "getting items ready" tab for pictured details.)
* Sizes 3T and above must be on ADULT Size Hangers.


Come and shop! You will receive an email that will act as your shopping pass to shop at the Consignor Presale Party on Thursday from 9am - 8pm.


Watch your sales online while you are relaxing at home. We will email you your Consignor number and password so that you have full access to check your sales daily. The busy bee service will need this information – PLEASE do NOT change your password at any time, once you have signed up to use the busy bee service.


This is on a First Come Basis …..Spaces are limited! The earlier you sign up the better chance you have of being able to use this wonderful service. You can start signing up in November for the spring/summer sales and in May for the fall/winter sales.



*Switch-A-Roos  Items Accepted guidelines will be followed. By participating in the Busy Bee Service, you are agreeing to the Busy Bee Switch-A-Roos Consignor Agreement.


For more information, please contact jessica@switcharoosconsignment.com.